The History of the Agrarian Commons
The Agrarian Commons is a necessary and innovative land-ownership model that addresses the current realities of how land is owned, how tenure and equity are conveyed, and how land stewardship is carried out. This model challenges corporate and large-scale agriculture land-ownership models and offers a new, sustainable approach for the small farmer.
The first Agrarian Commons were created in 2020, and currently there are 12 Agrarian Commons in varying stages of development. Below is the history of how this new model was developed.

The Origins of the Agrarian Commons
The Agrarian Commons Creation Committees
Two Agrarian Commons Creation Committees met, the first in 2019 and the second in early 2020, to co-create documents and agreements to guide the first cohort of Agrarian Commons. These committees brought together national leaders, innovators, local and regional stakeholders, and aligned organizations to ensure that broad and diverse perspectives and experience informed the launch of Agrarian Commons. Agrarian Trust hosted and facilitated both committees, and we are grateful for the participants' expertise and thoughtfulness.
Janelle Orsi, Neil Thapar, Sara Stephens, Cameron Rhudy, and other attorneys at Sustainable Economies Law Center (SELC) initiated the process of developing open source "commons" legal tools for community-owned farmland and equitable tenure for farmers in 2015, and we continued to develop those tools through committee discussions.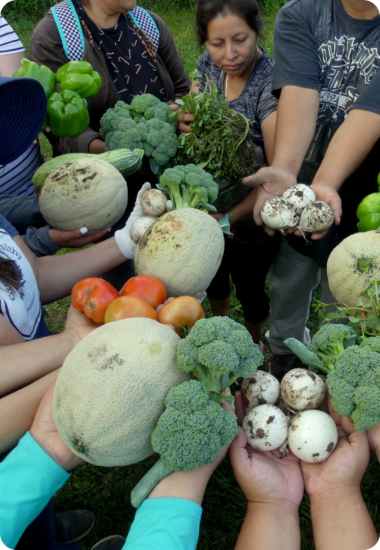 The 2019 committee included advisors, organizational partners, attorneys, and farmland-access and -tenure practitioners who refined SELC's draft documents and created templates.
The 2020 committee, composed of founding farmers, community stakeholders, and Agrarian Commons Founders, localized these documents, refining legal language that covers the following topics:
Farmer equity and tenure security with equitable lease / ground lease
Agrarian Commons 501(c)(2) and 501(c)(25) bylaws
Cultural respect easements
Legal language to prohibit market-based sale of land
Options to ensure active farming and stewardship
Farm standards, forest standards, and ecological-stewardship standards and agreements
Agrarian Commons Creation Committee Members

Vermont Law School Center for Agriculture and Food Systems , VT
Yale Climate Change and Health Initiative, CT
Private Practice and WA Agrarian Commons attorney, WA
New Venture Advisors, LLC, CO
BCM Environmental Land Law and NH Agrarian Commons attorney, NH
aaaaConservation Law Foundation, MA
Dodson Parker Behm & Capparella, PC, and TN Agrarian Commons attorney, TN
Conservation Law Foundation, MA
Cooperative Development Institute, ME
The Northeast Farmers of Color network, Ontario, Oneida
National Young Farmers Coalition, NY
New Entry Sustainable Farming Project, MA
George Washington University Law School, Strategies for a Sustainable Future, NH
Yggdrasil Land Foundation, AL
Sustainable Economies Law Center, CA
Sustainable Economies Law Center, CA
The Northeast Farmers of Color network, RI
Sustainable Economies Law Center, CA
Sustainable Economies Law Center, CA
Dodson Parker Behm & Capparella, PC, and TN Agrarian Commons attorney, TN
Conservation Law Foundation, MA
Cooperative Development Institute, ME
The Northeast Farmers of Color network, Ontario, Oneida
National Young Farmers Coalition, NY
New Entry Sustainable Farming Project, MA
George Washington University Law School, Strategies for a Sustainable Future, NH
Yggdrasil Land Foundation, AL
Sustainable Economies Law Center, CA
Sustainable Economies Law Center, CA
The Northeast Farmers of Color network, RI
Sustainable Economies Law Center, CA
Sustainable Economies Law Center, CA
Farmers' Legal Action Group, MN
BCM Environmental & Land Law, PLLC, NH
Sustainable Economies Law Center, CA
Dodson Parker Behm & Capparella, PC, TN
Sustainable Economies Law Center, CA
FairShake Environmental Legal Services, PA
Konrad J. Liegel Attorney At Law, PLLC, WA
Conservation Law Foundation, MA
Fayette County Assistant Prosecutor, WV
BCM Environmental & Land Law, PLLC, ME