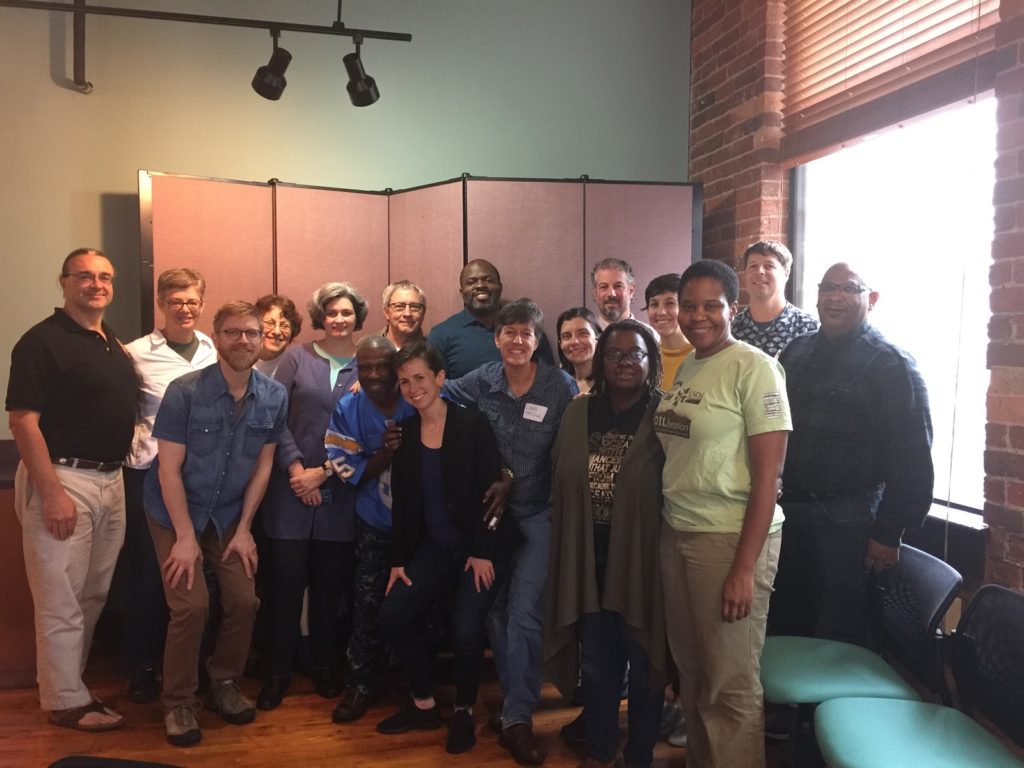 The storm is upon us
We bowed heads in prayer as Tropical Storm Michael lashed the sides of our Winston-Salem hotel. We prayed for folks across North Carolina who had just survived Hurricane Florence and were now being struck by another fierce storm. We prayed for one of the ministers among us who would have to drive into the heart of the storm to reach an ailing loved one.
To me, the pelting rain and wailing winds seemed to demand that we continue our work together for racial and environmental justice. Climate-fueled storms like Michael are carving deeper the wounds of systemic racism and land abuse. For example, just weeks earlier, Hurricane Florence had endangered people's drinking across water North Carolina, as floodwaters mixed with hog feces from concentrated animal feeding operations across the state. For decades, Black North Carolinians have been fighting for basic health and environmental rules to protect their communities from this toxic industry, and Florence underscored just how great the risks are. It's the hope of healing our broken food system, racism, and the land that inspired this gathering of 20 ministers and land access professionals in Winston-Salem.
Fred Bahnson and the Food, Health and Ecological Well-Being Program, which he directs at Wake Forest University School of Divinity made the event possible. Fred invited Rev. Nurya Love Parish to hold an event on a topic of her choosing connected with faith and agriculture. Nurya partnered with Rev. Darriel Harris to shape the agenda and the invite list.
The Rev. Nurya is co-founder and executive director of Plainsong Farm and the priest-in-charge with Holy Spirit Episcopal Church in Belmont, Michigan. She also edits the Christian Food Movement website. Darriel pastors a congregation called Newborn Community of Faith Church in Baltimore and directs its Strength to Love 2 Farm. He is also a 4th year PhD Student at Johns Hopkins School of Public Health. Together, Nurya and Darriel brought together faith leaders and land access professionals for three days of contemplation, discussion, and decision-making. The gathering, titled "For the Health of All Creation," sought to explore how the church's land assets can help advance justice.
The church has land
The focus of the gathering was inspired by a simple observation: The church has land. Many churches are landowners; and while there is no comprehensive data, one estimate suggests there are over 1 million acres of church-owned parcels greater than 5 acres nationwide on which no church or church-run school stands. Beyond that, many churches have older members who own land and are deciding who they want to leave it to after they pass on.
The gathering was also part of a national, interfaith conversation called FaithLands, which looks at how diverse faith leaders can restore right relationship with land and create healing justice. The FaithLands network, which first took root in spring of 2018, is growing into an ambitious vision of faith communities across the U.S. using their land in new ways to promote justice.
Faith communities can use a variety of arrangements to dedicate their land to the service of their communities. Strategies include secure leases to beginning farmers, affordable sales and other equitable arrangements to empower local agriculture, land donations to community land trusts, ecological land management plans, and restoring land to Indigenous peoples and communities of color.
The Red Sea and our baptismal invitation
"For the Health of All Creation" was full of uncomfortable moments. The history of land in the U.S. is a history of violence. Asking what Spirit is calling us to do with the land the church owns means facing centuries of devastation and broken relationships.
Deep questions about how to work for justice bumped up against an almost overwhelming sense of urgency. The week of the gathering the U.N. released a report that says we have only twelve years to prevent utter climate catastrophe. Meanwhile, many Christian denominations are facing a quieter, though still profound, crisis. One participant shared that in the same twelve-year period, 500 churches in her denomination are likely to close in North Carolina alone. So if we are to create new possibilities with this land, we must do it soon.
It's in this context of urgency and complexity that we wrestled with crucial questions together:
Who is not in the room who needs to be here?
Have we done our own work to dismantle racist and colonialist mindsets so that we can be trusted with this task?
How do reparations fit into this work?
When we're working with Christian communities facing church decline or closure, how do we honor their legacy?
Where is Christ in this work?
How do we fund this work in a way that will not undermine its spirit of transformative justice?
How can a group of already busy clergy realize the potential of this work?
Thankfully, Bible study was an essential component of these intense conversations. Scriptural reflection helped us relax and reconnect. Rev. Darriel Harris led us in some radical rereadings of familiar Bible passages. He showed us how the creation story can be read to say that humans were made to serve creation, and not the other way around. And he helped us read the Joseph story to see how a Biblical hero unconsciously participated in land theft and the enslavement of his own people. And he led us in a review of Pentecost, bringing to mind that it is both terrestrial and spiritual. Wrestling with these texts, we asked: What does it look like to be a good steward of creation? What does it look like to work for the liberation of all people?
Rev. Nurya Love Parish shared a Jewish midrash about the parting of the Red Sea that for me captures our current moment. She shared that there is a traditional story imagining that when the Israelites were fleeing Egypt they came to the Red Sea, but it didn't part. The Egyptians were getting closer, but the sea remained unbroken, endless, and cold. But one of the Israelites stepped forward. He walked across the beach and into the sea, first up to his ankles, then his knees, then his waist, then his chest, then over his neck, chin, and mouth. And it was only when the water covered his nostrils and he seemed certain to drown that the waters parted and all the Israelites could cross.
That to me captures the baptismal invitation before us: Wade in the water. Without knowing how we will cross, we must wade in the water.

---
Join us
The FaithLands project is just now sending out its first shoots and leaves! These are early days, and we eagerly seek the help of new collaborators — like you! To learn more about the work of FaithLands, please sign up for our mailing list.
To reach out with specific questions or offer your support, please contact: faithlands@agrariantrust.org.

Rachel Payne is a volunteer with FaithLands. She is currently pursuing a master's of divinity at Boston University School of Theology.